Animation
Animation
We have considerable 3D animation and 2D motion graphics experience at our disposal. Our in house modellers, artists and animators bring client's products and processes to life to deliver their message in a more compelling way.
Our product visualisations and animations are used for training, reconstruction and marketing purposes for various blue chip clients in the rail, military, motor, engineering, health and aerospace industries.
Blended Learning
Blended Learning
We work closely with you to craft innovative and results focussed blended learning, that helps to develop the learning experience in your workplace. We gain a deep understanding of your business, the technology environment and your learners - to deliver solutions that fit your budget and meet the deadline.
Like a Swiss Army knife, we have many tools at our disposal that enable us to deliver the best training possible. We can bring our skills and experience together, to offer 3d graphics, authoring, animation, film, live footage, e-books and Real-time CGi - to create an engaging, easy to use and effective solution for the user.
Corporate Film
Corporate Film
Online marketing, internal change, brand awareness, a complex training process... whatever the subject, we help businesses communicate clearly through film.
We use our wealth of experience to create internal communications that engage,  training tools that inform, social media content that stands out from the crowd and promotional films that boost awareness.
We work closely with our clients, understanding their needs and handling the entire production process to achieve creative and effective results.
iVT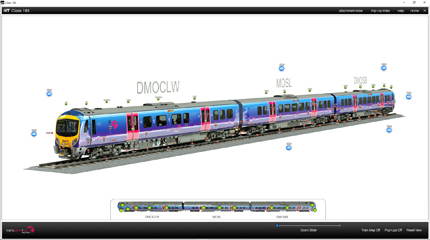 iVT
Our innovative and award-winning iVT software is used extensively across the rail industry and NHS, to help improve staff training. The software incorporates interactive photorealistic graphics within a bespoke, intuitive user interface. Remote updates allow for quick and easy modification, ensuring the software is accurate and up to date.
The iVT is a portal for all relevant information on a vehicle - including documents, 3D animations, films and software simulations. Available online across multiple platforms and via the iVT app, the software is accessible 24/7 and has proven to increase staff knowledge, confidence and performance.